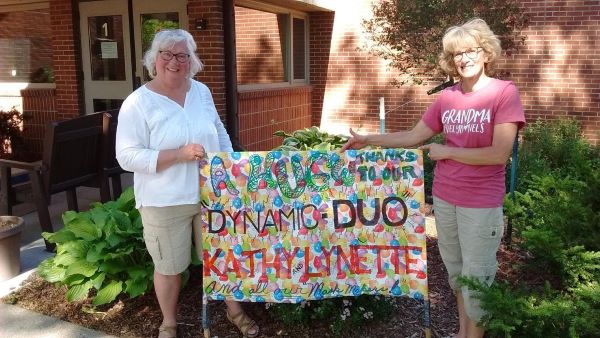 Pandemic Response: Many Hands Make Light Work
The United States is a country with volunteerism roots that run deep. Neighbors helping neighbors with children, communities working to build roads, churches and town halls, and farmers joining together to raise barns. It's no surprise that during this year of pandemic that the face of a friend was behind a mask as volunteers stepped up in new ways to help others in Northfield.
"Many hands make light work" says the old adage. Kathy Ness already knew many hands that helped with sewing during the pandemic, as she organizes the Boomerang Bag production to reuse cloth instead of plastic bags for the Northfield Library (and other locations). Ness contacted Lynette Marks, an RN at Northfield Hospital, and also quilter. Could the hospital use more masks, she asked? The answer was yes. Lynette knew many others who could sew and put out a call to her network of quilting friends.
Seamstresses are often well prepared with fabric, and quilters are known to have large supplies of ''fat quarters" at their disposal. Ness and Marks now had access to both sewers and fabric, in March of 2020. Then the supplies and volunteers came out of the woodwork! Opening her front door, it wasn't unusual for Ness to find a bag filled with donations of fabric and thread. The COVID Response Supply Depot was set up in the Northfield Chamber of Commerce foyer, so volunteers could safely pick up needed supplies, which were restocked by Ness and others as donations came in. The volunteers were kept well supplied until elastic became an endangered species. As in WWII when folks were taught to make do, ties were added to the masks instead of elastic and production never stopped.
Many people wanted to help but didn't want to sew. These volunteers were enlisted to wash fabric, rip ½ yard pieces or to cut fabric for masks in two sizes – for adults or children.
If you wear glasses you know of the importance of the nose piece to stop fogging; volunteers tried garden wire, twist ties and pipe cleaners. SMART (Sheet Metal, Air, Rail and Transportation) Union Local #10 heard about the need in Northfield and donated metal nose pieces for the masks in two pound increments: each bag held about 2,000 which were divided into small bags for volunteers to take from the Supply Depot. The foyer was open 24/7 and supplies for well over 4,000 masks went out.
At the height of production the Supply Depot was refilled weekly, adding supplies to make homemade isolation gowns which were greatly needed by local care facilities and health care providers. Additionally, a clothesline in front of the Ness home flew brightly colored masks and a donation box was generously rewarded by those who took masks. Popular fabrics were Batik and cheerful colors for adult masks and Spiderman, trucks, and John Deere prints were enjoyed by the elementary school kids. Financial gifts rolled in from the Northfield Rotary Club, St. John's Lutheran Church, the Northfield Retirement Community, Facebook fundraisers, and many individuals. Masks were donated to the Community Action Center, Three Links Care Center, the Northfield Retirement Community, Northfield Public Schools, The Key, the Northfield Public Library, the Northfield Hospital, Laura Baker Services Association, group homes, and countless others businesses and programs.
This one idea sparked the involvement of many, many volunteers across our community. Volunteers included: Diana Abbott, Nancy Antione, Elizabeth Bade, Erin Bailey, Libby Behrens, Becky Benedict, Beth Berry, Jessica Bettinger, Mary Bleckwehl, Linda Bliese, Valerie Bollinger, Julie Buchwald Haley, Char Carlson, Nancy Carlson, Pat Carlson, Stephanie Christians, Beth Christiansen, Mary Crow, Karen Dempsey, Mary Douglass, Mary Drew, Susan Dunhaupt, Joan Ekeren, Chris Ellison, Marni Elmer, Lisa Emery, Shelia Estrem, Peggy Fink, Kathryn Franek, Norma Gilbertson, Mary Jo Grove, Amy Hamborg, Dottie Hammer, Polly Hendee, Mary Hillmann, Brianne Hoffert, Barb Holm, Leigh Hunter, Donna Jackson, Nancy Johnson, Starr Kahl, Pauline Kes, Ginny & George Kinney, Emma Kmoch, Wanda Larsen, Jean Larson, Tami Little, Mary Loven, Diane Lyman, Laurie Mackenzie, Lynette Marks, Jan Mathews, Monica Medwetz, Dodie Mickelson, Naomi Miessler, Rachel Miessler, Nancy Moe, Rick Moe, Irene Mullen, Brad & Kathy Ness, Linda Ness, Debby & David Nitz, Becky Novotny, Margaret O'Dell, Susan Oftedahl, Pat Olives, Betty Olson, Alison Perry, Tricia Peterson, Renell Petinelli, Kay Pfahning, Barb Pike, Rhonda Pownell, Jeanne Pumper, Jane Rinehart, Deb Roberts, Cindy Robinson, Linda Rowan, Bobbie Rowe, Tripp Ryder, Lori Schmidt, Lynette Schroeder, Gail Setterstrom, Gerri Specken, Karen Strand, Lois Stratmoen, Shelly Strobel, Deb Suppes, Merrell Thornton, Erica Trebelhorn, Annette Tschann, Sandy Turbes, Sue Weaver, Suzie Wegner, Marilyn Weiser, Kathie Westlund, Liz Wicks, Leesa Wisdorf, Lynne Young, Mary Zabel, Julie Zdenek, and many others!
The production has slowed and Kathy Ness will be glad to work herself out of this pandemic volunteer opportunity. The sewers, quilters, hospital donation of filters, the union's contribution of nose pieces, and support from across the area are all important parts of keeping the community safe, and proof that many hands do make light work.