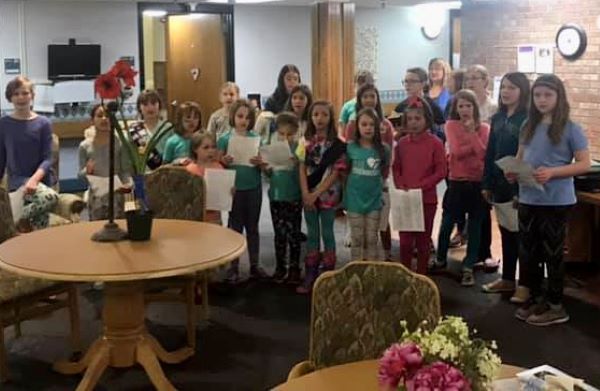 Neighbors and Homeschool Volunteers
Try A Little Kindness was a hit song in 1970 which said, "Don't walk around the town and out, lend a helping hand instead of doubt." The year 2020 offered opportunities to do just that. People were isolated from families, distanced from their neighbors, and sometimes unable to see the light at the end of the tunnel. While many people were inspired to reach out to their neighborhood or the community, some Northfield families were especially creative in their interactions.
Julianna Camareno, a stay-at-home mom, has been homeschooling her daughter since preschool and began connecting with other families in the community through Mothers of Preschoolers, known as MOPs. A group of girls who had known each other since they were preschoolers wanted to stay in touch after they headed to different elementary schools. The God's Girls group began with eight girls and, before the pandemic shut them down, there were 35 girls coming together. The girls put on pageants at Easter and Christmas for the Northfield Retirement Center. Musical programs included singing and providing concerts during the holidays. Packing shoeboxes for Operation Christmas Child was another volunteer holiday project. Collecting food for the Community Action Center merits mention too. Community outreach isn't limited and many people have been blessed by the generosity of these young volunteers.
Nika Hirsch, a 5th grade-volunteer has been on Instagram @thisliferocks as an exhortational rock painter since May of 2017. She encouraged her sister and brother to join her with mom, Jana, in painting rocks and then placing them around the city. Hirsch says she likes to paint the 'pun' slogans, "You're pawsome" is one of her favorites. The Gratitude Tree at the Northfield Library (also known as Rocky) is often adorned with tags listing things to be thankful for, placed there by community members; during colder weather Rocky has been home to hats and scarves. Volunteers have knitted and donated the winter wear to be hung on the tree for anyone to take. When the weather got warmer the hats were taken to Thrifty Parrot for people to take home free of charge. Hirsch initiates One Hundred Kind Deeds Day every Black Friday; she is joined every year by lots of Facebook friends as they spread acts of kindness. Santa got a treat, Lindt chocolates were purchased for everyone in the chocolate store, coffee was delivered to retail sales people, you get the picture: unexpected goodies to make someone happy were shared. This inspiring 10 year old has the volunteerism bug!
Juliette Reiland read a book called The Art of Neighboring which reconfirmed what she was already practicing, being a good neighbor. Your hat doesn't always say volunteer on it but reaching out to check on elderly neighbors, offering a hug, and bringing bread all say "I care" and it's clear that Reiland's family of seven does care. Reiland has been making sourdough bread for the last year. She has her own starter growing on her countertop and adds to a jar in the refrigerator at times. Sourdough starter led to lots of baking, and loaves were delivered to neighbors. All year the Reiland home had a sign in the front yard offering prayer if you knocked or called their number. The family brought bread, plants, and demonstrated love for others in the time of isolation and staying safe at home. Love your neighbor as you love yourself has been put into practice in the neighborhood near Carleton.

These neighbors and neighbors across our community make Northfield special, caring for each other one kind word, one homemade loaf of bread, and one musical program at a time.