February 15-20, 2021
Random Acts of Kindness Week is a fun way to intentionally share acts of kindness and spread joy.  Northfield Shares invites you to get involved and help make the world more kind, one small act at a time.  Experience the joy that comes from doing good things for others.  We look forward to seeing kindness spread throughout our community!
We have put together some tools to help you get started:
Our week-long

Random Acts of Kindn

ess Outline

includes daily themes, quotes, and a few ideas for each day.  

The Random Acts of Kindness Foundation created wonderful themed

posters

for your use.
Great for your office, classroom, or social media!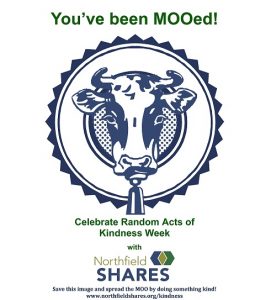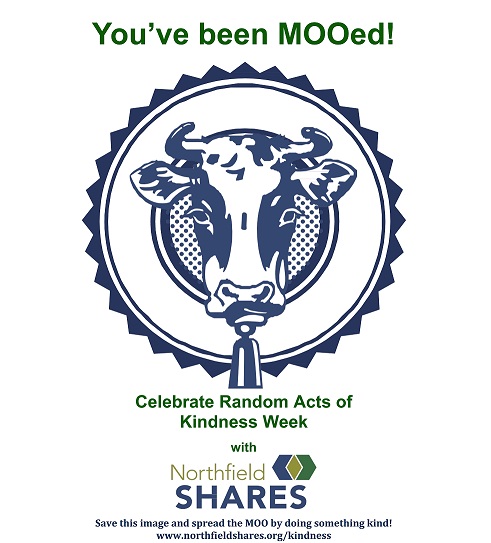 Play the MOO Kindness Game to help spread kindness throughout our town.  Spread kindness with the You've Been MOOed! image.  Simply open and save to your mobile phone or computer.  Do something kind and send the image to your recipient.  Connect with someone you maybe haven't seen or talked to in a while and "MOO" them, too.  Snap a selfie and post on facebook, tagging @NorthfieldShares so we can see the kindness spread!

Play Random Acts of Kindness BINGO individually or challenge a group of friends!  Individuals, families, children, and adults are all encouraged to play.


Simply print a BINGO card and have some fun!




English BINGO Card




Spanish BINGO Card
Check out this list of fifty ideas for how you can spread kindness!
Note: Please follow COVID-19 guidelines and precautions while sharing Random Acts of Kindness!