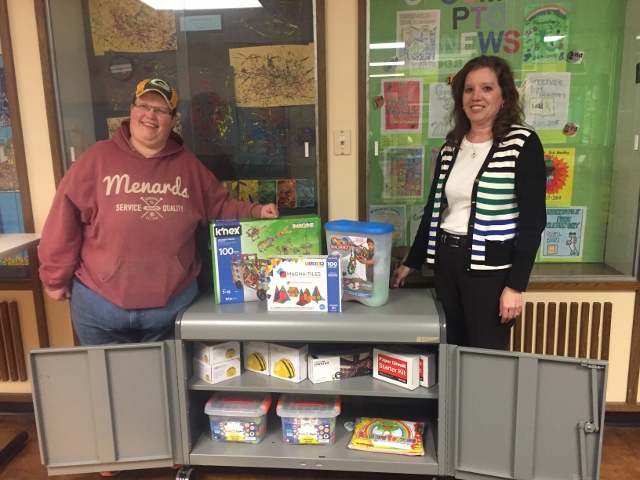 Crosby's Motto Teaches a Life Lesson at Greenvale Park Elementary
Editor's note: This article was originally written for a special National Volunteer Week section in the April 14th edition of the Northfield News.
For the past nine years, volunteer Anne Crosby has been a fixture at Greenvale Park Elementary School. Her volunteering stems from something much deeper than gratitude toward the people impacting her children's lives. You could just say that her family raised her right.
"I, as well as my siblings, were taught at a very young age to be willing to help or do what you can for others without question because 'you never know when you may need help,'" says Crosby. " So, that has always been my motto in life."
Crosby's son, Logan, attended Greenvale Park Elementary from grades K-5. She was greatly impressed by how much the staff gave of themselves to ensure that her son and every other student, had a fun, safe, and loving learning experience. Wanting to give back to the school, she signed up for PTO (Parent Teacher Organization) and has been a member for the past eight years. Logan is now an eighth grader at Northfield Middle School and her daughter, Teagan,  is currently a third grader at Greenvale Park Elementary.
While a PTO member, Crosby has organized many fundraisers, including the school's Move-A-Thons, and several Culver's Nights each year. She also coordinates the rewards for students hitting their targets at these fundraisers; she gets donations for silent auctions, and assembles and dismantles bouncy houses and various displays.
According to second grade teacher Anne Larson, Crosby supports the teachers in many ways, including cooking an annual staff thank you breakfast with PTO treasurer Heidi McCormick, buying supplies for teachers out of her own pocket, and passing out chocolate and treats to teachers at least monthly.
"Anne is unique in that she is not only supporting the teachers that teach her children, but the entire Greenvale staff," she says. "She is in the building almost every day, and she is always positive and encouraging to everyone."
Crosby says the simplest things represent the greatest rewards when serving others. "What I enjoy most about volunteering, honestly, is just the happiness and gratitude seen on the staff members'  faces from something as simple as a piece of candy," she says. "Volunteering all these years, I have come to know a majority of the kids, so it's always a great feeling when they notice me outside of school and take the time to say, 'Hello.' It's a rewarding feeling to know that I made an impact in their school lives."
In her spare time, Crosby also volunteers at Three Links in the gift shop as well as at her church, Little Prairie.
Over the years, Crosby has also focused her joy and energy on her kids' extracurricular activities. She coached Logan's baseball team for two years. Currently, she's cheering Teagan on as her daughter prepares for her first 5K run as part of the school's Girls On The Run program. Crosby is also a fan of school music programs as Logan is finishing his fifth year of orchestra; he also plays guitar, trumpet and dabbles on the keyboards.
While many have showered Crosby with their praises for her service activities, she says she can't take all the credit because there are so many others that volunteer as well. She just sees herself as a regular person who finds joy in giving back what she can without expecting anything in return.
"I am a firm believer that whatever you decide to do during the day is what you sleep with at night," she says. "Volunteering is a great way to give back to the community, and I love it. If it was possible for volunteering to pay the bills, it would be my job."