Grants in Action: Project Friendship
Northfield Shares distributed over $62,000 in grants to 12 local nonprofits as part of its annual grant cycle. Grants were awarded to organizations whose projects create long-term solutions to core issues affecting our community, enhance the overall well-being of the area and generate the biggest multiplier effect.
One of this year's grant recipients, Project Friendship, has had an active involvement within the Northfield community since 1965, serving over an estimated 4,700 matches during the last 53 years. The organization's goals for the future are to help youth gain confidence, increase their self-worth and connect with caring adults. With the help of a grant from Northfield Shares, Project Friendship focused on its campaign "Everyone Needs a Mentor," which began to erase the stigma surrounding mentoring relationships and the belief that they are only beneficial for those who have problems or are suffering difficulties.
According to Project Friendship Executive Director Sarah VanSickle, the organization has experienced steady growth in the last four years, with participation doubling. "With the help of Northfield Shares, we were able to continue to provide monthly mentor training sessions on relevant topics to help support our mentors, multiple staff check-ins and additional large group match activities," she says. "Every child who wants a PF mentor will be matched, with no referrals needed. Our future is bright and exciting not only with our growing participation but also in our support and community connections!"
Van Sickle adds that one of the organization's former matches, who were recently able to reunite, exemplified exactly how Project Friendship can make a difference in not only the child's life but also for the college student.
"Mark Bradley was in Northfield for his Class of 1968 Reunion at Carleton College this past weekend," VanSickle says. "He visited with his Project Friendship little buddy, Kerry Raadt, over breakfast, and at one point in the conversation he said to Kerry, 'When I look through the directory of my college classmates, I realize that my best friend in college was you.'"
Another match story that VanSickle shared is told through a parent sharing an email sent to her son's mentor who graduated from college this past May (the pair have been friends/matched for 3 years).
"I find myself on the verge of tears at times as this ends because you have been such a guiding force in Jakob's life. I never dreamed that this project would be so powerful or that he would be so fortunate with the bond and friendship that has formed. Aside from the fact that you have been a strong role model for him, you have really engaged him with new experiences as well as tapping into his existing passions. I know Jakob appreciates this gift in his life and I think that as he ages, he will realize even more how deeply fortunate he has been."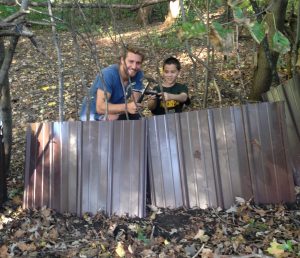 VanSickle says the hour the PF matches spend together each week becomes something more—something bigger. The outcome of a Project Friendship mentoring relationship will never be quantifiable. The bond that is formed and the connections made between mentor and mentee, for many last a lifetime.
"We believe that ALL youth should have a story like Kerry and Jakob," she says. "Northfield Shares funding helps Project Friendship in ensuring all youth who want a mentor are able to be matched and supported. In 53 years, they might also have similar stories."