Buettner's Inspiring Message Heard by Hundreds
Northfield Shares would like to thank all those that joined us on Monday night, September 24th, for Dan Buettner's presentation on living a longer and happier life. Approximately 600 people filled the Northfield Middle School auditorium to hear Dan's dynamic Blue Zones® presentation, which was informative, entertaining and inspiring. Thank you to our speakers, Board members and volunteers for ensuring the event ran smoothly. Thank you, also, to the following organizations and individuals for their support:
Event Sponsors
Carlson Capital Management
Community Resource Bank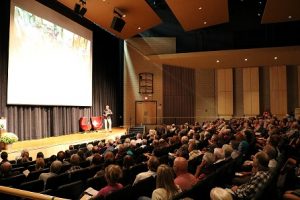 First National Bank of Northfield
Northfield Retirement Community
Parallel Partners
Peter Dahlen and Mary Carlsen
Three Links
Other Supporters:
FiftyNorth
Hot Shot House Band
Ethan Finger
Northfield Middle School Staff
And, thank you to everyone who filled out the Blue Zones® Survey. Our initial review indicates 75 percent of respondents marked Strongly Agree to the statement: Northfield would benefit from becoming a Blue Zones Community. More discussion on this topic is forthcoming.
Blue Zones Presentation
Weren't able to attend the event? Check out the video of Dan Buettner's presentation below!