2019 Northfield Shares Grants Awarded
Northfield Shares will distribute $66,467 in grants to 10 recipients. The organizations and their respective programs receiving grants are highlighted below. A total of 17 grant applications were submitted with requests for $158,749. The 2018-19 grant awards are made possible through the Ames Fund, Bill Clifford Fund, Nutting Beautification Fund, the Marston Headley and Dorothy Stone Headley Fund, and the Street Family Fund.
Since the 2007-2008 grant cycle when the organization was called the Northfield Area Foundation, through the current 2018-19 grant cycle, Northfield Shares has provided more than $553,000 in funding to local nonprofit organizations.
Note: Grant descriptions were excerpted from grant applications.
Community Action Center of Northfield – Community Engaged Housing * Collaborative Leadership Grant of $25,000
Community Engaged Housing will weave together people and organizations across Northfield to build tangible solutions to Northfield's housing crisis. The level of discourse in Northfield has reached a pinnacle with needs around youth homelessness, lack of affordable housing, chronic homelessness, and the lack of resources for individuals and families at-risk of being homeless. Northfield is a very engaged community full of volunteers and nonprofit organizations, creating a resource-rich community that can be mobilized to address pressing needs. Community Action Center of Northfield (CAC) has taken a very big step toward more supportive infrastructure around homelessness and affordable housing.  
CAC has recently signed a purchase agreement to acquire and build a multi-income community of homes, transitional housing, and emergency shelter within Northfield. This shelter/housing development will provide much needed tangible resources for homeless youth, homeless families, low-income families, and working-class families seeking affordable housing. CAC has taken a leap of faith that this investment in property acquisition will ignite a community-wide investment in volunteers and donations to work alongside contractors to build and construct a sustainable solution to Northfield's most pressing housing needs.
Funding from Northfield Shares will build CAC's capacity to spearhead, guide, and lead a community of volunteers in helping tackle portions of this development. Shares funding will be used to hire a project engagement coordinator to work with individuals, faith-community leaders, businesses, and organizations to focus, organize, and mobilize volunteers and resources in order to tackle a project that gets at the heart of Northfield's housing crisis. This grant was made possible by a gift from The Ames Fund of the Minneapolis Foundation.
Healthy Community Initiative – On the Move:
 Northfield Promise's Collaborative Efforts to Improve Transportation 

* $10,000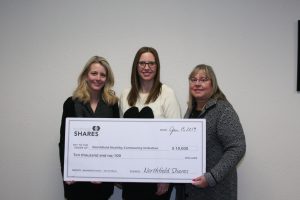 On the Move represents a series of system-improving strategies designed to change the transportation landscape for low-income Northfield kids/families and local youth development programs. By pulling together a multitude of community stakeholders, the initiative seeks to:  a) Create a transportation co-op for local youth development programs where programs can access group transportation at cost (current private busses are priced outside the realm of financial possibility for most programs) b) Develop a rural social service rideshare option that low-income individuals can use to get to appointments (or work) or kids could use it to get to programs or school  and c) Lead state public policy change in Minnesota, allowing low-income Northfield families to use the K-12 education tax credit to apply to driver's education costs – and then creating a local program where Northfield low-income youth can receive state subsidies for 75% of this driver's education cost.  This grant was funded by the Marston Headley & Dorothy Stone Headley Fund
Northfield Youth Sports Collaborative – Youth Sports Scholarships * $5,479

The Northfield Youth Sports Collaborative (NYSC) was founded in 2004 after local sports organizations noticed that Latino and low-income youth were participating in their programs at very low numbers. The associations joined together to form the NYSC to work collaboratively to increase this involvement. They recognized that by working together, the associations would be able to accomplish more and serve more kids than would be possible with groups working in isolation. As one of their first initiatives, they established a shared scholarship pool for low-income children offering them access to take part in sports associations. This pool has since provided more than 2,300 scholarships to local children.
Unfortunately, continually increasing demand for scholarships (coupled with declining local funds) resulted in the Collaborative needing to turn away young people for the first time last year due to lack of funding.
Expanded fundraising efforts – including generous support last year from Northfield Shares – helped reverse this situation. However, the Collaborative is still in a vulnerable position; without additional fundraising support, the current funds will only continue to support scholarships for another six months, after which point youth will again be turned away. This grant was funded collectively by: The Bill Clifford Family Legacy Fund, The Street Family Fund, Nutting Family Fund, and Marston Headley and Dorothy Stone Headley Fund.

Age Friendly Northfield Initiative *  $5,000
The Age Friendly Initiative's goal is to meet the need for a centrally located comprehensive, coordinated information and referral system for older adult (age 50+) services. The Age Friendly Northfield (AFN) Steering Committee will use this grant for design, development, and management of a web-based information and referral system. It will house information including contacts, descriptions of the services and links to sites often accessed by older adults, their families, and caregivers when seeking help including, but not limited to, health and medical needs, city services, public library info, county health and social services, recreation, and transportation. This grant was funded by the Marston Headley & Dorothy Stone Headley Fund.
HealthFinders – HealthRise Care Coordination Project  * $5,000
In 2018, HealthFinders expanded their capacity with a strategic move to a new clinic space in Northfield, co-located with Sterling Pharmacy and a Northfield Hospital Express Care Clinic. Leveraging this new collaborative location along with the Northfield Shares grant, HealthFinders will add dental capacity, as well as expand our mental health services and teen clinic. Together, these services will establish HFC as a comprehensive medical, dental, and wellness home for the underserved population in Northfield and surrounding rural communities. This grant is funded by the Nutting Family Fund. 
Northfield Garden Club – Northfield in Bloom  *  $5,000
Beautification of Northfield is the mission and the vision is a vibrant, aesthetically pleasing community that has pride of place. The Garden Club works with volunteers from many civic organizations to enhance the city we all love in the following areas: urban forestry, floral displays/landscaping, heritage preservation, environmental efforts and overall impression. Our projects are designed to showcase Northfield to all who live, work, play, study, and visit here. Collaboration takes place with Roundtable, Age Friendly Northfield, Save the Northfield Depot, the EQC, The ACC, the Chamber of Commerce, Master Gardeners, and the Garden Club through the Beautify Northfield Coalition (BNC). This grant is funded by The Nutting Beautification Fund.
Rice County Neighbors United of Northfield – Our Great Diverse Northfield Community Mural  *  $4,988
Neighbors United, a local nonprofit advocacy organization for immigrants and other vulnerable groups in Northfield, will join stakeholders, Just Food Co-Op and the Youth Arts Board of the Union of Youth to paint a mural on the south wall of the co-op. Twelve youth, grades 6-12, will be recruited, and the project will be directed by Middle School arts teacher Rafael Estrella. Planning/recruiting/training/artistic renderings will take place during winter, spring and summer of 2019. Painting is scheduled to begin in fall 2019.
At the conclusion of the project, the mural will be unveiled to the whole community in a cultural event that includes food, music and dance. The general theme will be the cultural evolution of the city and its current rich diversity. The youth and their mentors will determine the specifics of the design in creative brainstorming sessions. This grant is funded by The Nutting Beautification Fund
Girl Scouts – Mentored Troops Program  *  $2,000
In volunteer-led Girl Scout troops, trained Girl Scout volunteers guide girls through activities and create a supportive, all-girl environment in which every girl can thrive. In Girl Scouts, girls build lifelong friendships and support networks as they complete hands-on activities designed to build key life skills such as leadership, teamwork, and problem-solving.
New this year, Girl Scouts' Mentored Troops program will provide these same opportunities specifically for communities of color who have historically been under-served by Girl Scout programming. Our community engagement department— including our new Vice President of Community Engagement—has identified several barriers that women and girls of color experience when volunteering with or participating in Girl Scouts. Based on a current program being implemented by one of our sister councils, Girl Scouts of Greater Los Angeles, the Mentored Troops program offers a response to these barriers, providing girls and volunteers of color with the culturally-relevant training, resources, community outreach, and leadership opportunities they need to feel welcome and confident in Girl Scouts' all-girl leadership environment.
Mentored Troops will recruit and train volunteers of color to deliver the Girl Scout curriculum to girls of color within their communities. During the troop's first year, Mentored Troops will provide financial resources and staff support, with the goal of training each troop to operate independently of this support by their second year of operation. This sustainable program model will allow us to reach 40 girls in Northfield who otherwise may never have experienced Girl Scouts' innovative programming.  This grant has been funded by The Bill Clifford Family Legacy Fund
Healthy Community Initiative – YouthBank  *  $2,000
Northfield YouthBank is a youth-led grant-making initiative which channels money into projects that will improve the quality of life for youth in our community. It is also a process and way of working with young grant makers that encourages and trains them as they develop essential life and job skills. YouthBanks are run by young people, for young people in their community. YouthBank is unique in that it puts money directly into the hands of young people who decide on how it will be spent.
The YouthBank team is supported by adults, but the youth make their own decisions as to what projects they choose to carry out and how the money they have is spent. YouthBank members develop many skills, including communications, strategic thinking, teamwork, responsibility and self-confidence.
Northfield YouthBank began in January of 2015 and has had seven grant rounds in which they have distributed over $84,000 into the community to youth-led projects. These grants have been used to fund 30 grant applications with approximately 265 youth involved in leading these projects. Based on a model begun in Northern Ireland, YouthBank is just becoming established in the United States and Northfield YouthBank is proud to be a leader in this movement. As the first YouthBank in the country to award grants, Northfield YouthBank is helping set the standards for all future YouthBanks in the country.  This grant has been funded by The Bill Clifford Family Legacy Fund
Project Friendship – Bridging the Mentoring Gap  * $2,000
Project Friendship seeks to increase the number of youth, specifically at-risk youth, who are connected with positive caring adults in mentoring relationships and bridge the mentoring gap between services. Project Friendship will partner with Northfield Union of Youth-The Key to expand our mentoring reach by providing training and support to their staff and volunteers. Project Friendship has a proven training and support mentoring model. NUY-The Key has the caring adults in volunteer roles and serves as the support and safe place for at-risk youth. Together we can connect youth with caring adults who are intentional about mentoring.
The target population for Project Friendship participants includes Northfield youth between 8-14 years old (2nd through 7th grades). Northfield Union of Youth-The Key youth center provides programming for youth ages 12-20. There is overlap in program services where Project Friendship ends and The Key begins, vulnerable youth should not be left without a caring adult who supports them as they transition to high school.
The collaboration between Project Friendship and NUY-The Key will specifically work to improve the number of 7-12th graders who feel good about themselves and facilitate the transition of youth from PF to NUY-The Key programming.  This grant has been funded by The Nutting Family Fund.
In addition, the Engeseth-Rinde Restoration Fund at Northfield Shares awarded its first grants in 2018 for a total of $33,617. Distributions from the Fund will be used primarily for the purpose of restoration, research, silviculture and related educational activities on the Engeseth-Rinde Unit of the Prairie Creek Wildlife Management Area. Grant recipients include the Minnesota Department of Natural Resources (planting and invasive species control), and the University of Minnesota Department of Ecology, Evolution and Behavior (balancing local adaptation and evolutionary potential).