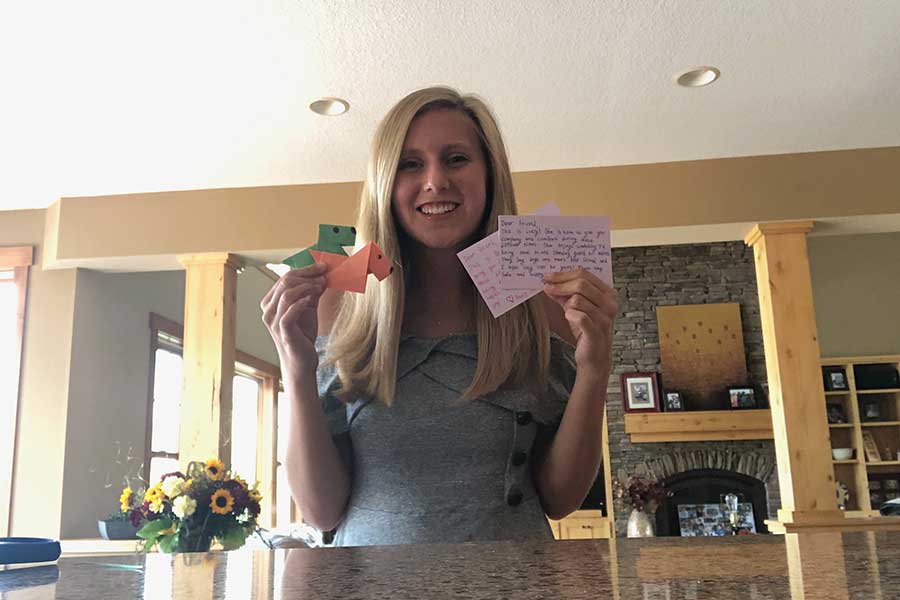 Annie Frank, Outstanding Youth Volunteer
As a highschool student Annie Frank has already proven herself an active member of the Northfield community. Her desire to help people comes from her own sense of belonging and giving to others. Frank has divided her time between the Northfield Community Action Center Food Shelf, where she has filled multiple roles, and with her church, Bethel Lutheran.
While serving at the Food Shelf over the summer of 2020 Frank spent around 80 hours in multiple positions. She began with sorting produce, separating food that was still good for people to eat from food that could be sent to local farms for livestock feed. Frank also shopped for clients, whom she met and took orders from while they were in their cars in the parking lot. Using a form and a series of questions, she was able to deliver those groceries to the cars when clients were not allowed inside due to pandemic protocol. Assisting with donation processing, Frank would check the dates on items and sort them into different categories the Food Shelf uses for organizing the groceries and other products. Reorganizing the stock room by moving oldest to newest product was another job that was part of the summer activities for this incredible teen volunteer.
At Bethel Lutheran Church Frank served as a Youth Assistant on Sundays attending elementary school classes and assisting with student projects and helping kids focus on the lessons. Serving as a substitute teacher teaching lessons was another hat she put on. The kids ranged from kindergarteners to third grade and hearing the report, it would be hard to decide who enjoyed the time together more, Frank or the children she interacted with each week. Frank's incredible heart for volunteering is a gift to this community!