Volunteer Spotlight: Jon Otto Brings Valued Visits to NRC
Submitted by Milosha Malecha, Northfield Retirement Community
Editor's note: This article originally appeared in the special National Volunteer Week spread in the April 10, 2019, edition of the Northfield News.
Visitors are a welcomed part of any day for residents at Northfield Retirement Community (NRC), and visitor volunteers are a valued resource. Jon Otto is one such volunte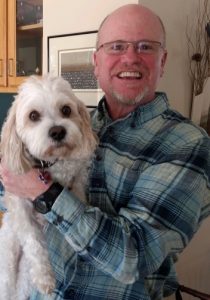 er, but he shares his time in several areas at NRC.
Jon has volunteered at NRC since January of 2016. Each week, he brings his Cavachon dog, Oliver, to visit residents once a week and it's been a hit. Jon also helps with weekly bingo, casino day, and with NRC's spiritual care program. He has even volunteered to help fill in hours when activity staff has been out on vacations.
"I have fond memories of visiting my grandmother at a facility like the NRC care center," Jon recalls. "When my schedule opened up a bit three years ago, I found NRC to be a place where I could serve the senior community."
Jon adds that his favorite part about volunteering is building relationships with the NRC clients and employees.  "At the NRC, I will occasionally get to hear about a resident's life from a long time ago," he says. "This transports me to a different time and is a real treat."
NRC is not the only place Jon volunteers. Each week, he also gives time to the Northfield Community Action Center's Food Shelf, where he shops with CAC clients, stock shelves, and make deliveries.  He also volunteers once or twice per month at the Faribault Correctional Facility, visiting with inmates and providing a constant source of encouragement.
Jon finds time for personal fun as well. He enjoys the outdoors, hiking, biking, running, and cross-country skiing.  He also enjoys cooking, roasting coffee, and hosting family and friends.
Northfield Retirement Community feels fortunate to have Jon as a volunteer on its campus. It is truly appreciated. Thank you, Jon, for all you do at NRC.