Project Friendship Leaves A Lasting Impact On Volunteers
Diana, a recent graduate of Carleton College,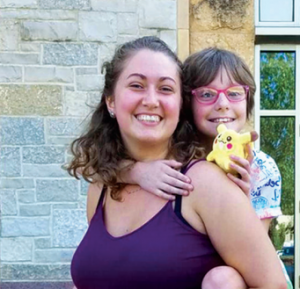 applied to be a mentor with Project Friendship during her Sophomore year.  She missed her younger sister who was back at home in Washington State, and thought this would be a way to connect with a girl similar in age to her sister.
Diana's family was from the Ukraine.  They had been living undocumented in Washington state since they came over to the US when Diana was just two years old.  During Diana's junior year at Carleton her family had to return to the Ukraine to obtain their green card. Diana was scared she would never see her family again and did not know what would happen.  Hearing about the extra stress Diana was under and since her family was in Ukraine over the holidays, the family of Diana's mentee invited her to celebrate Thanksgiving and Christmas with them here in Northfield.  Diana enjoyed setting up their family Christmas tree and exchanging gifts with her mentee's family. Soon after Christmas Diana's family was able to return to the US, and then it was Diana's turn to go to Ukraine to obtain her green card.  Her mentee's family sent a care package with Diana and hoped to see her again soon. Thankfully all went well and Diana returned to Carleton, graduating in May of 2019. Her family was able to come from Washington to celebrate her graduation, and instead of staying at a hotel her mentee's family opened their doors and invited Diana's family to stay with them.  Diana's younger sister and her mentee, both 12 years old at the time, quickly became friends. As Diana reflects back on her time as a mentor, she says "I didn't just gain a mentee, I gained a family."  
That is exactly what Project Friendship can do.  Make lasting connections and change lives. Often one thinks it is the mentee's life that will be impacted.  The truth is that it's not just the mentee, but the volunteer mentor, and often both families as well. Thank you, Diana, for making a difference!