Northfield Shares Awards Nearly $1.3 million to charities in 2018
Local community foundation and its donors make huge philanthropic impact.
NORTHFIELD, MINN. (January 22, 2019) – Northfield Shares, a community foundation centered on philanthropy, volunteerism and collaborative leadership, announced that through its named endowment funds and its donors, the organization awarded $1,288,084 to nonprofit organizations in Northfield and throughout Minnesota in 2018.
"Northfield Shares is ecstatic about the charitable impact our donors have made through their estate gifts, named endowment funds and donor advised funds," said Mike Krance, executive director of Northfield Shares. "Their generosity is making an immediate impact and fueling a legacy of good works for years to come."
During its 2018-2019 grants cycle, Northfield Shares awarded 10 grants to nine area nonprofits. The grants, totaling $66,467, were funded by seven different endowment funds inside of the Northfield Shares organization, plus a $25,000 grant from the Ames Fund of The Minneapolis Foundation.
Northfield Shares again set aside the Ames Fund money for a special Collaborative Leadership Grant. This year's grant, which totaled $25,000, was awarded to Community Action Center (CAC) of Northfield for its Community Engaged Housing project.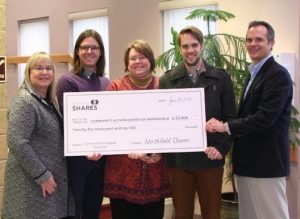 According to Scott Wopata, executive director of CAC of Northfield, the organization has recently signed a purchase agreement to acquire and build a multi-income community of homes, transitional housing, and emergency shelter within Northfield. This shelter/housing development will provide much needed tangible resources for homeless youth, homeless families, low-income families, and working-class families seeking affordable housing.
"CAC has taken a leap of faith that this investment in property acquisition will ignite a community-wide investment in volunteers and donations to work alongside contractors to build and construct a sustainable solution to Northfield's most pressing housing needs," says Wopata. "Funding from Northfield Shares will build CAC's capacity to spearhead, guide, and lead a community of volunteers in helping tackle portions of this development. More specifically, the funding will be used to hire a project engagement coordinator to work with individuals, faith-community leaders, businesses, and organizations to focus, organize, and mobilize volunteers and resources in order to tackle a project that gets at the heart of Northfield's housing crisis."
In addition to CAC, this year's grant recipients included:  Age Friendly Northfield, Girl Scouts of Minnesota and Wisconsin River Valleys, HealthFinders Collaborative, Northfield in Bloom, Northfield Healthy Community Initiative (Northfield Promise and YouthBank initiatives), Northfield Youth Sports Collaborative, Project Friendship, and Rice County Neighbors United. To learn more about the organizations and projects, click here.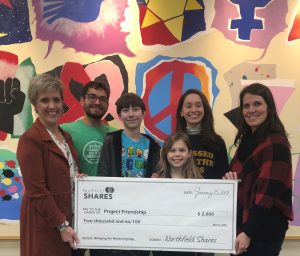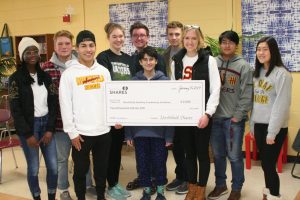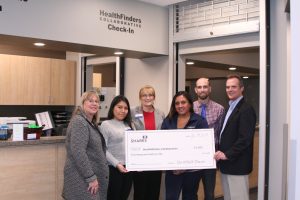 "Through its named endowments, Northfield Shares advances its mission by annually awarding grants to organizations working to enhance the Northfield community," says Bob Thacker, Northfield Shares Board chair. "We feel privileged to help our donors achieve their philanthropic goals while enabling Northfield's local nonprofit organizations sustain and expand their mission-critical programming."
Northfield Shares grants are awarded through an application process that runs September 1-October 15. Applications are then reviewed by a grants committee comprised of members of the Northfield Shares Board as well as community volunteers. The selection process focuses on how projects display steps to achieving solutions. This past year, 17 grant proposals requesting a total of $158,749 were submitted to Northfield Shares.
Since the 2007-2008 grant cycle when the organization was called the Northfield Area Foundation, through the most recent 2018-2019 grant cycle, Northfield Shares has provided more than $553,000 in funding to local nonprofit organizations.
Krance notes that the annual grants cycle doesn't paint the full picture of Northfield Shares' philanthropic impact as a community foundation. "The organization also enables donors to support a variety of nonprofits in Northfield, throughout Minnesota and across the country through their donor advised funds," he says. "In fact, during 2018, grants from donor advised funds totaled $38,000."
In addition, the Engeseth-Rinde Restoration Fund at Northfield Shares awarded its first grants in 2018 for a total of $33,617. Distributions​ ​from​ ​the​ ​Fund​ ​
will​ ​be​ ​used​ ​primarily​ ​for​ ​the​ ​purpose​ ​of​ ​restoration,​ ​research,​ ​silviculture and​ ​related​ ​educational​ ​activities​ ​on​ ​the​ ​Engeseth-Rinde​ ​Unit​ ​of​ ​the​ ​Prairie​ ​Creek​ ​Wildlife​ ​Management Area. Grant recipients included the Minnesota Department of Natural Resources (planting and invasive species control), and the University of Minnesota Department of Ecology, Evolution and Behavior (balancing local adaptation and evolutionary potential).
Krance also notes that, overall, 2018 was not a typical year due to a $2.5 million estate gift by Pat Lamb and Ele Hansen. That gift allowed for Northfield Shares to then make subsequent gifts of $1 million to Carleton College for the Pat Lamb Endowed Tennis Fund, and $150,000 to FiftyNorth for its endowment fund.
"While we experienced the benefits of a large estate gift in 2018, we're confident that as we continue to grow, these occurrences will become the norm," says Krance. "Through the continuous addition of named endowments and donor advised funds, we will not only enable our donors to fulfill their philanthropic legacies, but expand our impact on the local nonprofit community as well."
Northfield Shares is the Northfield area's community foundation founded to advance philanthropy, inspire volunteerism and promote collaborative leadership. The organization was formed when 5th Bridge and Northfield Area Foundation merged in 2014. For more information about Northfield Shares, visit northfieldshares.org.