Dave Schmidt Set to Run 40th DJJD Race
While many people are still sleeping in the early morning hours of Sunday, September 9, Dave Schmidt will do the same thing he's done for the previous 39 years: run the Defeat of Jesse James Days Run/Walk. This year's event, which will be the 42nd overall and which annually benefits Northfield Shares, will be Schmidt's 40th consecutive DJJD race.
Schmidt, who now lives in Inver Grove Heights, will be participating in the 5K run for the 34th time. He's also run the 15K event six times, most recently in 2009. When he finishes the 40th DJJD race, he will have run 260 kilometers or 161.2 miles!
"The DJJD 15K is one of the best races ever," says Schmidt. "It's always a challenge running the rolling hills east of town."
Dave first became acquainted with the Northfield landscape when he moved here in 1966 with his parents and brothers. After graduating from Minnesota State University-Mankato, he moved back to Northfield where he lived and raised his family until 1992, when he and his wife Sara moved to Inver Grove Heights.
Running has been a big component of his life, and the comradery, friends and connections continue today.  While living in Northfield, he was a member of the Band of 10,000 Aches, a group of men and women who met regularly to run, whether it was a Sunday morning around town or the 100K Edmund Fitzgerald Team Race. "The DJJD 15K and 5K races were a warmup for many in preparation for the Edmund Fitz relay each October," says Schmidt.
Living on East Woodley, Dave was quite familiar with the DJJD race course. He and his brother Steve, along with their friend Ken Drivdahl, ran a portion of it every morning on their way to and from the Carleton Arboretum—their daily training route.
During his later years in Northfield, Dave was president of the Northfield Arts Guild and started the NAG 8K Run in 1990. He served as its race director for the first several years.
Although Schmidt has been involved with a variety or races over the years, it's the Defeat of Jesse James Days Run/Walk that has held closest to his heart.  "Being part of the larger DJJD weekend festivities is just one of the great reasons to participate," says Schmidt. "It's really a fun race, and fun to be part of the group that is helping raise money for the larger community through Northfield Shares."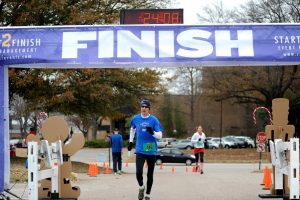 Join Dave and approximately 600 other runners for the Defeat of Jesse James Days Run/Walk on Sunday, September 9, benefiting Northfield Shares.
Day of Race Registration begins at 6:30 a.m. – 7:45 a.m. at The Armory, lower level. 519 Division St.
Northfield Shares will be collecting gently used running shoes on Sunday to donate to Mary's Place, a non-profit, transitional housing center for individuals in the Minneapolis-St. Paul metro area.