Share in Northfields Future Fund raises over $170,000 to support other local nonprofits!
We are thrilled to announce that TOGETHER we raised over $170,000 for the Share in Northfield's Future Fund!
A sincere thank you to all those listed below who partnered with Northfield Shares in our quest to raise money through the Share in Northfield's Future Fund.
To learn more about Share in Northfield's Future Fund, click here. To learn about the organizations, programs & initiatives that have been subsequently awarded the grants from the Share in Northfield's Future Fund, CLICK HERE.
Thank You To All Who Have Supported the Share in Northfield's Future Fund
Jane and Dan Bartho
Tara and Fred Berndt
Judy Bond
Carrie and Todd Carroll
Nancy and William Child
Laura Eschen
Andriana Estill
Meleah and Chuck Follen
Ron and Carol James
Mark and Sheri Jarrett
Megan Kraby
Deborah and Jim Loe
Karen Lundquist
Barb Matz
Jeff and Alicia Meland
MaryLynn  and Clay Oglesbee
LaVern and Barbara Rippley
Jennifer Sawyer
Doug and Grace Schroeder Scott, in memory of: Carol Berkedal Carlson, Robert (B.J.) Johnson, Doug Schuurman, Margaret Mohn Spear and Brynhild Rowberg
Donna Rae and Peter Scheffert
Greg and Mandie Siems
Kathy Schuurman
Lois and Noel Stratmoen
Justin and Kristin Stets, in memory of Carol Carlson
Bob Thacker and Karen Cherewatuk
Diana Postlethwaite and Paul Thiboutot
Ramona Weselmann
Organizations & Businesses
Ames Family Fund
American Center for Philanthropy
Benson & Langehough Funeral Home & Cremation
Carlson Capital Management
College City Beverage
RJ Falck Financial
Hometown Credit Union
Linder & Associates
Merchants Bank
Minnesota Council of Foundations
Professional Drive Dental Group
Rebound Enterprises (Marriott Fairfield Bar, Archer House Bar)
Reese, Winter & Associates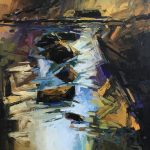 Light Among the Darkness 
In a gracious and very creative gesture of support for Northfield, local artist Wendell Arneson donated a painting titled "Light Among the Darkness," which was auctioned off to support the Share in Northfield's Future Fund.  Thank you, Wendell!
**************************
Share Your Time
You can share your time with Northfield Shares and make a difference in the community by volunteering.
Share Your Talents
Share your special talents by serving on a Northfield Shares committee.
Share Your Treasures
Help us keep the spirit of giving alive. Making a donation to Northfield Shares will further support our mission. Gifts may be made via check, Donor Advised Funds, Securities, Stock, Real Estate and/or Legacy (Estate) Gifts. If you would like to make a gift by credit card, click here and then choose the "$ GIVE" button. If you would like to setup a recurring gift, download and complete the Pledge Form.
Set up a Donor Advised Fund
Take the full tax deduction when you set up the account. Then, recommend grants to charities over time.
Make a Gift of Securities, Stock, or Real Estate
Gifts of this nature can provide tax relief to some while providing opportunity to support our mission.
Share Your Life's Work
Make a legacy gift to honor your life or the life of someone else. A legacy gift ensures that your generous spirit and philanthropic interests live on for all time. Legacy or endowment gifts are never spent, instead they are invested to grow. The interest earnings are available to grant, giving your gift the power to impact the community forever.
Looking for more information?
Support Northfield Shares, your community foundation, by sharing your time, talents and treasures through any of these opportunities. For more information please contact the Northfield Shares team at 507-403-9755 or info@northfieldshares.org. You may also want to connect with your financial advisor or accountant for recommendations based on your financial goals.
Northfield Shares is a registered 501©3 nonprofit organization. All donations are tax deductible and final. If you have questions, please email info@northfieldshares.org