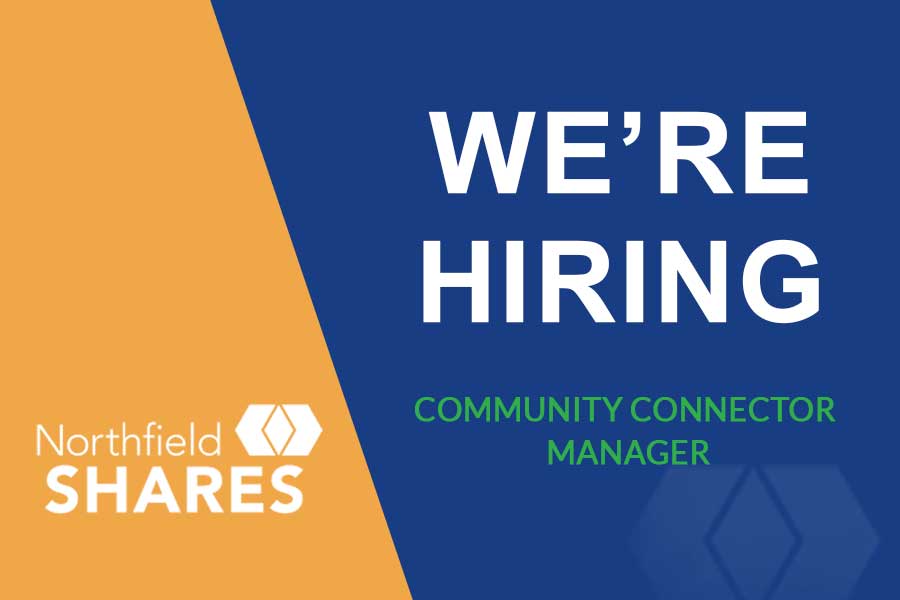 We're Hiring! Community Connector & Manager
Position Summary
This position provides overall administrative support, program management, and communications support for Northfield Shares, with the direction provided by the Executive Director and Board of Directors.
Roles & Responsibilities
Program / Event Management
Create, plan, implement and manage Northfield Shares events logistics in concert with Executive Director, including, but limited to grant distribution celebration, annual meeting, board meetings, and other special events.
Oversee and support the programmatic components of our work including:
-Working alongside the grants committee and Executive Director to ensure appropriate, accurate and timely grant process.
-Connecting with grant recipients annually to capture updates on programs and stories supported by Northfield Shares grants.
-Lead the Volunteerism Committee and serve as primary contact for the Volunteer HUB for individuals, organizations, and software support.
-Identify potential partnerships with other organizations within the community and develop those partnerships as appropriate.
Attend various community events.
Communications/Social Media Specialist
Develop and implement education/communication plan throughout various channels.to support the mission of Northfield Shares including website, e-newsletter, Northfield News, social media, print materials and collateral for events.
Work with designated outside marketing vendors as needed or indicated.
Execute and monitor communication strategies.
Shepard marketing projects from inception to fully executed.
Track and report analytics on marketing and communications campaigns.
Grant writing, if applicable
Administrative
Overall office support

Oversee and maintain software programs supporting the work of Northfield Shares.

Assist in the coordination of Board of Directors meetings.
Other duties as directed by the Board and/or Executive Director.
Position Requirements & Preferences
3+ years related work experience.
Strong writing, computer, organizational and people skills
Creative, ability to think analytically, work autonomously with direction, self-motivated.
Experience with database use, Google platform, Microsoft programs
Experience with social media preferred (Facebook, Instagram, Twitter)
Outstanding communication skills, both verbal and written.
Undergraduate degree preferred.
Part-time Position

20-25 hours/week
$20-25/hour (Depending Upon Qualifications)
Reports to Executive Director
Must maintain confidentiality of information.
Interested candidates should email their letter of interest with a one-page summary of work experience to: info@northfieldshares.org   Subject: Community Connector and Manager. Open until filled.